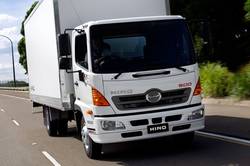 Established in 1975, Uhlhorn Truck Repairs is a family business run by mechanics Bob & Lee Uhlhorn. Generations of experience allows us to tackle any job that comes our way and provide a quality service to our customers, from small single truck owners to large fleet owners.
With a well equipped workshop we are able to perform anything from minor servicing to major repairs and rebuilds on small vans, trucks, large trucks and prime movers. A breakdown service is also available for our regular customers.
We stock a range of parts allowing us to perform timely repairs, and use only the highest quality replacement parts from brands that we have grown to trust.
Pride is taken in all of the work we do, and our work is backed by a comprehensive report sheet on completion of each job for all work we perform. If you are looking for quality repairs by mechanics you can trust call us now on (03) 9546 5607.